A Mexican classic with the delicious tostadas from Tortilleria Taiyari made by Culinessa.
Tinga de pollo is a Mexican chicken dish that you let simmer. Not difficult at all, just put some love into your cooking and this will be a mind blowing dish. The secret? The Chipotles and adobo 🙂 Tostadas? You probably know tortillas, tacos and nachos? Tostadas are crispy baked tortillas, a bit thicker than commercially available tortilla chips.
Tinga de pollo recipe
Serves 4 people
Ingredients

1 cube of chicken stock
350 grams of chicken breast
1 medium onion
400 grams tomatoes
1 can of Chipotle chiles in Adobo
2 cloves of garlic
Salt and pepper to taste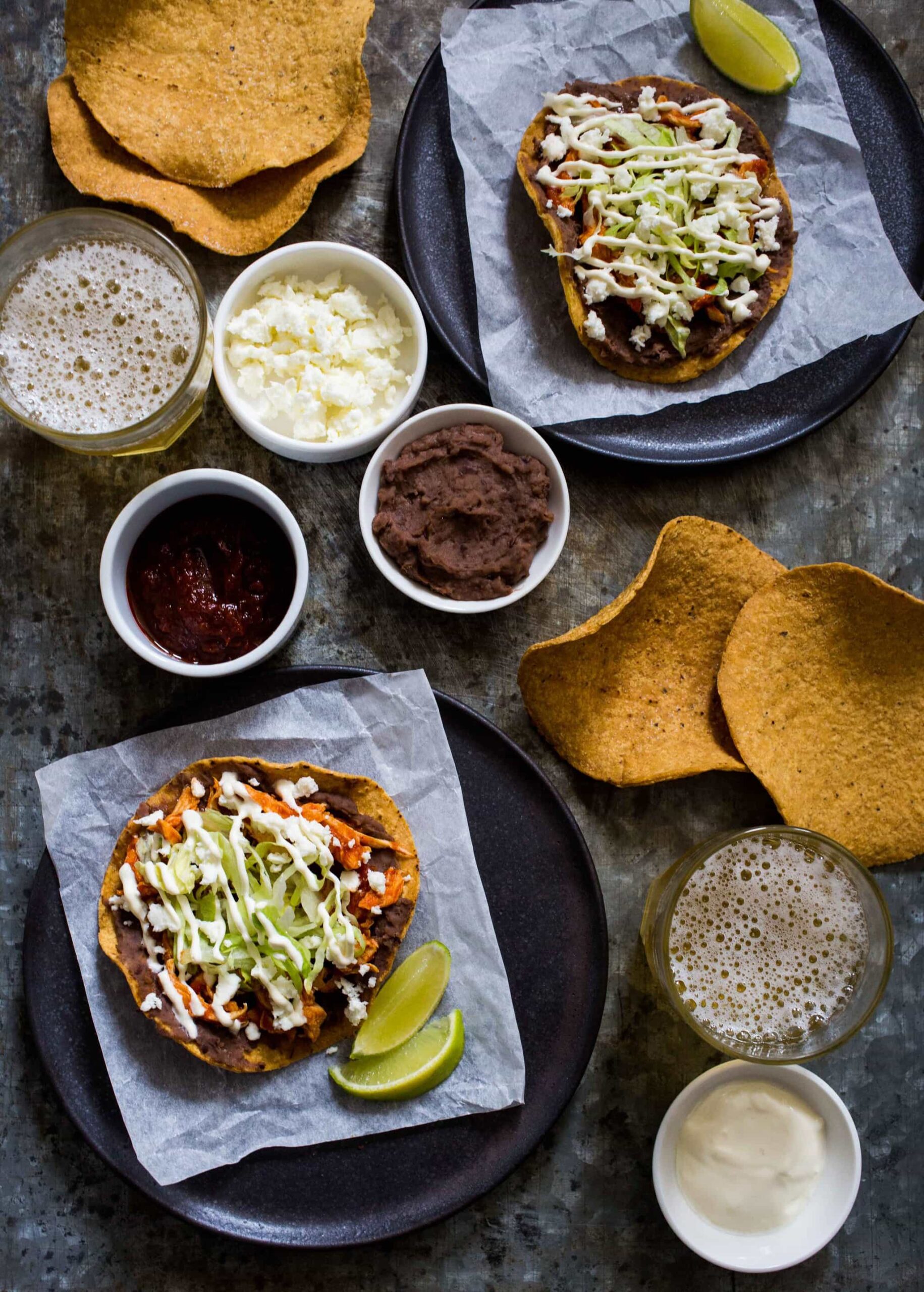 How do you make Tinga de Pollo?
Boil your chicken breast in enough water with the stock cube.
Meanwhile, make the spicy red sauce.
Chop the onion and squeeze the garlic.
In a pan you heat a tablespoon of olive oil and fry the onions in it until they are translucent and now add the pressed garlic.
Once the garlic has also baked for a minute, add the peeled tomatoes along with the chipotle in adobo sauce.
Finally add a cup of water to the whole and let it simmer.
When the chicken is cooked, let it cool until you can pick it.
Now add the plucked chicken to the whole and let it simmer for at least another half hour.
Season with salt and pepper and possibly a little more chipotle in adobo sauce.

Serve the tostadas (build the tostada in this order)
Tostadas from Tortilleria Taiyari
Pureed black beans (refried beans)
Tinga de pollo
Feta cheese
Iceberg lettuce
Sour cream
Lime wedges
Optional [Chipotles in adobo sauce for extra spice]


Buen provecho!


See original recipe from Culinessa here.